MEET THE TEAM
"Metal Genius"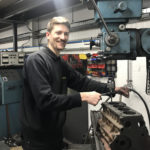 NAME: Harry Phelps
AGE: 22
LIVES: Crawley weekends and Tenterden for the working week
SWIFTUNE ROLE: Welder, fabricator and Machinist
QUALIFICATIONS: 4 year advanced manufacturing, engineering and machining apprenticeship
HOW LONG HAVE YOU WORKED AT SWIFTUNE? I began working here back in September 2018
HOBBIES: Skateboarding! I was a sponsored skateboarder for 7 years and number 1 UK amateur slalom skateboarder, and was luckily enough to travel around Europe doing it as well as downhill longboarding.
FIRST EXPERIENCE OF CARS/MOTORSPORT: I have a lifetime of historic Motorsport; since I was born I traveled around the race circuits with family friend Bob Bullen who races a yellow Anglia. Through helping Bob, I met Nick and became aware of Swiftune, and I was over the moon to get a call from Nick, offering me this role.
CARS OWNED: I own a 1968 Ford Anglia 105E lagoon blue, historic race spec but road legal. I helped my dad build it in our spare time- definitely a labour of love. I also own a 1275 Mini Mayfair 1994 which I use as a daily driver.
GOALS: I would love to be able to race one day. I have grown up at race tracks and absolutely love Mini's, so to be able to own and one day race my own Mini is a dream.
SWIFTUNE HIGHLIGHT: I joined Nick at the Spa Six Hour event last year. It was my first time at the circuit and at a European race meeting. I absolutely loved it!
ON THE JOB: I love being able to put everything I was previously taught through my apprenticeship into practice. It's a new challenge working with A Series Engines and with all the modifications that come with Swiftune. I've literally had to learn on the job! It's such a great place to work, Nick is firm but fair. We have a good laugh and it's a tight team, we get together each month for "non-competitive" go-karting. Can't wait to be a part of Swiftune at the 2019 race meetings!