Britain champion in Mini Festival SU Carburetters Euro Challenge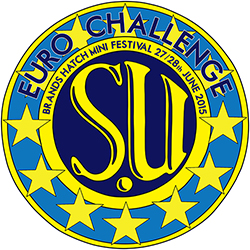 The Sanwa Trophy Endurance race was joined by some well-known names from the motorsport industry including Martin Donnelly ex-Formula 1 driver who was sharing with Justin Cooper and current BTCC driver Mat Jackson who partnered with Jason Brooks. Ones to watch included Bill Sollis/Nick Paddy, Adrian Barwick who was joined by Ex-F1 driver Mike Wilds, Bradley Ellis/Phil Anning in the Swiftune works car and Nick Padmore piloting Steve Jones' car who qualified in pole with the rest close behind covering the top 4 spots.
A great battle between Nick Padmore and Bill Sollis saw them side by side for a lap as they battled for 1st place, Once the pit window was shut, Nick Padmore was able to hold his front running position and finished in first place, Phil Anning and Bradley Ellis finished in 2nd and Adrian Barwick fought for a podium finish and himself and co-driver Mike Wilds finished 3rd.