Sixty Mini's battle at Goodwood 60th anniversary race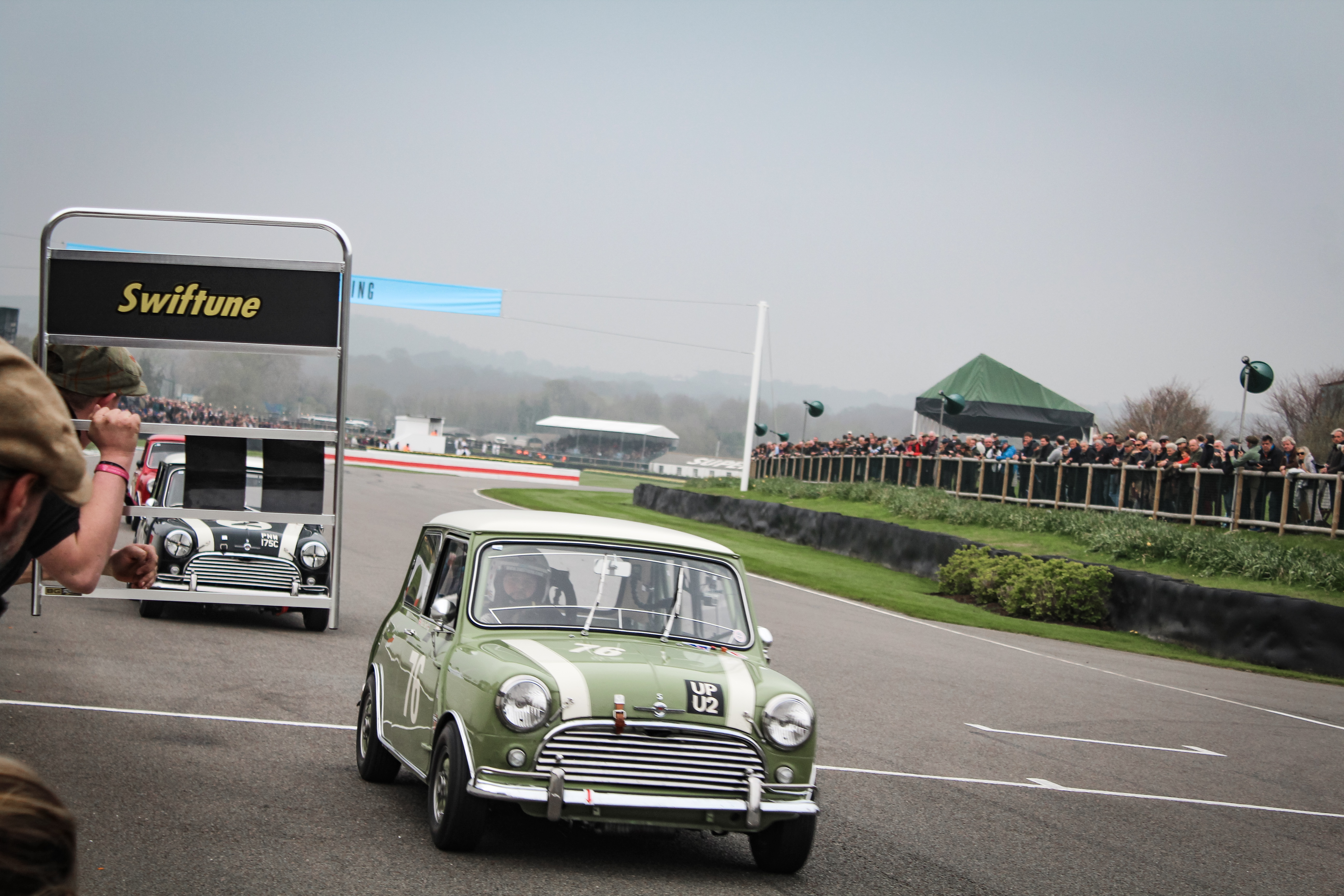 16 Swiftune run cars, 32 Swiftune engines, 5 races and 20 team members. Goodwood Members Meeting is always a busy event for team Swiftune but this year the pressure was on with double the amount of Swiftune engines and cars competing in the highly anticipated Betty Richmond Trophy.
When Goodwood announced the one make Mini race at the 77MM, celebrating the 60th anniversary of the iconic car, Swiftune was busily preparing three new builds including the newly commissioned BMW Mini Classic. Ten years on from the incredibly successful 50 year celebration race, excitement was building for the 2019 event. However 30 Mini's just didn't seem enough and it wasn't long till Goodwood decided to increase the grid to an incredible 60 Mini's from all over the world. The Swiftune team consisted of drivers from USA, Norway, France and Italy.
The Betty Richmond Trophy, which is named after the Duke of Richmond's mother, celebrates the iconic cars 60th anniversary and features an incredible mix of Mini legends, champions, record holders and professional drivers.  The race is spilt into two heats, in which the top 15 from each heat will determine the final grid. Outright Goodwood lap record holder Nick Padmore and Nick Swift beat the current 1:32.9 lap time record in qualifying, with Padmore coming on top with the time of 1:32.5 with Swift just 0.2 seconds behind him. It was Nick Padmore who was the fastest out of all 60 cars in his recently built beautiful FIA racer from experienced preparer Mondosport car and an incredible Seven out of the combined top 10 Swiftune powered, including Aston Martin works driver Darren Turner, pro driver Tom Blomqvist and Top Gear presenter and journo Chris Harris all racing a Swiftune Mini for the weekend.
The opening heat was action packed with front runner Bill Sollis having an unfortunate accident and dropping out from the race and ultimately the weekend. After a frantic sprint to the finish, Ian Curley finished up front with Swiftune powered Lars Ekorness claiming the fastest lap and 2nd place with Tom Blomqvist and Darren Turner close behind. Heat two, Nick Padmore and Nick Swift swapped the lead multiple times to the crowd's excitement and battled right till the very end with Swift taking the win. The top 15 of heat 2 consisted of 10 Swiftune powered cars including ex touring car racer Patrick Watts, Norweigen driver Mads Gjerdrum, Nick Paddy and BTCC driver Jeff Smith.
The final saw the top 15 from each heat make it into the race finale and battle for the win of one of the most iconic races. With the crowd ready for an exhilarating 20 minutes, some of the fastest Mini's and drivers lined up on the grid, ready to race. Swift and Padmore continued their incredible battle from race 1, switching places lap after lap until Padmore eventually stood strong in 1st place till the last lap. There was everything to play for as Swift put pressure on Padmore going down Lavant straight. Going in too quickly at Woodcote, Padmore found his way onto the grass, losing his leading position. Nick took advantage and muscled his way through, as Padmore quickly recovered back on track and incredibly slid straight into 2nd place, with no damage. Swift took the win, and the pit lane roared with cheers for the two incredibly entertaining racers and one of the closest last laps! Speaking after the race, Swift was ecstatic with his win, "you can't believe the relief after 6 months of hard work. It was brilliant to race with my good friend Nick Padmore, and to show you can have a thrilling race without one scratch on any of the cars!" Nick Padmore was also thrilled with his race, saying: "What a great battle, full respect and no body damage. I just used too much kerb and that was enough to let Swift pull along side and i had to let him through as I don't do damage! Best race I've ever had and i can't wait for the next battle. A huge thanks to Leigh and Gerald Dale for allowing me to drive an absolute beauty of a car."  
It wasn't all about the Betty Richmond Trophy, as Nick Swift also returned in Gerry Marshall Trophy with the Richard Longman replica 1275GT. Sharing with Chris Harris, the pair always knew that they wouldn't be at the top up against the faster cars including the Bill Shepard Mustang and Camero driven by Tom Kristensen. After qualifying a respectable 13th out of 30 on the Saturday morning, it was then the 45 minute 2 driver race going into the evening. Before driver change, Nick was having some great battles making it into the top 10 and Chris carried it on until they suffered an electronical issue and wasn't able to finish the race. Having to now start from the back after not finishing, Nick now had a challenge to get the best result he could in just 15 minutes. After an action filled race, Nick pushed on and finished in an incredible 5th place!
It was a brilliant end to the weekend and a credit to the extremely dedicated Swiftune team who worked incredibly hard to achieve 3 fastest laps, 6 podium finishes and see 21 Swiftune powered cars make it into the final out of 30.
All photo's by Gabriel Robson