Swiftune's Golden Ticket
Here's how you can win a chance to be part of the team at the 77th Goodwood Members Meeting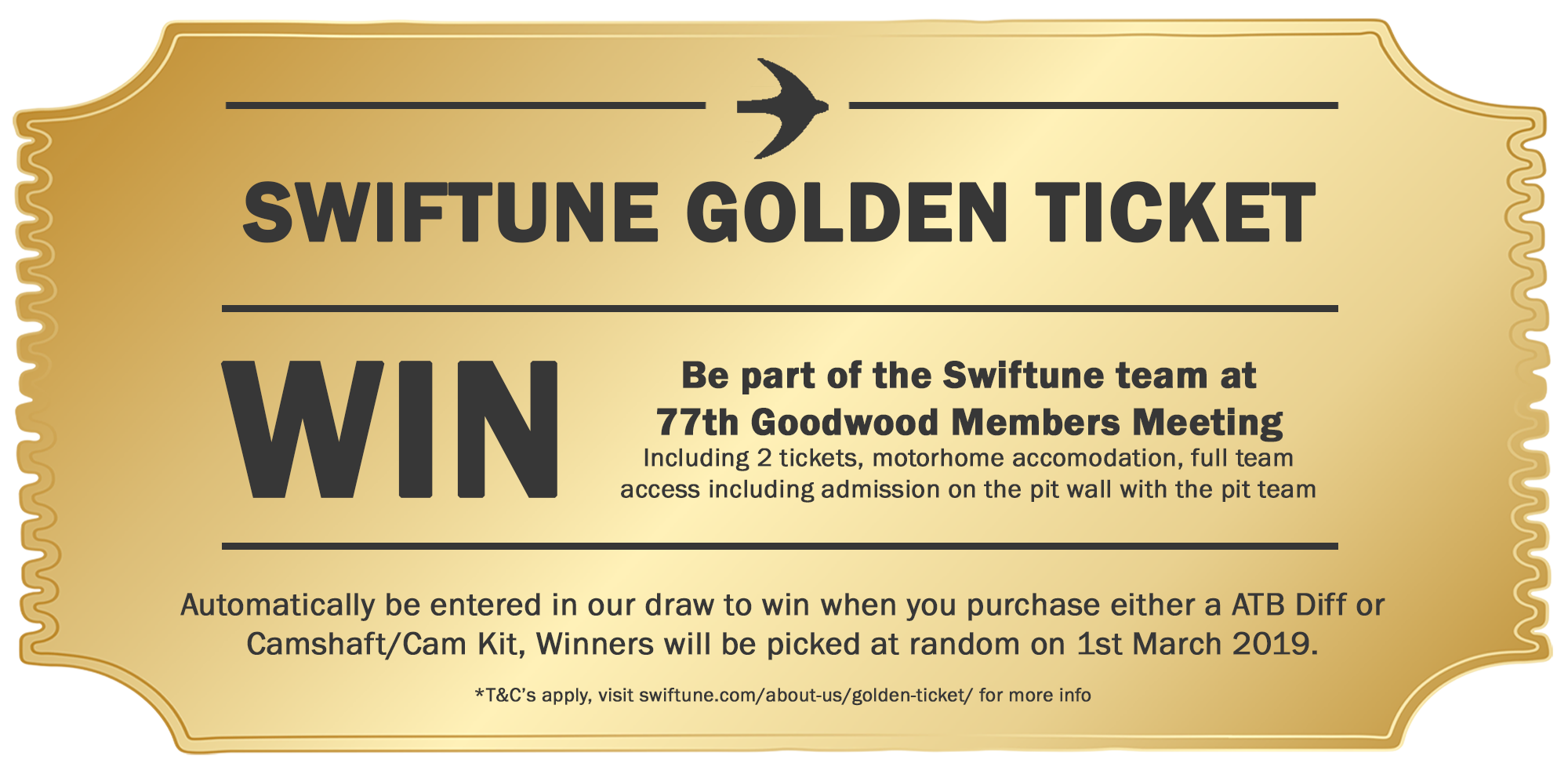 Introducing the Swiftune Golden Ticket, an opportunity to win money can't buy prize to be part of the Swiftune team at the Goodwood 77th Members Meeting on the 6th-7th April. This upcoming Members Meeting will be a unique event as they celebrate 60 years of the Mini with a one-make Mini race. Its been 10 years since the last all Mini race, and it is proven to be an incredibly popular race with spectators and racers alike. Throughout this winter we are handing out golden tickets with our two most popular products; ATB Diff or any Camshaft or Camshaft Kit. Each time these products are purchased you will automatically be entered into our Golden Ticket draw, and a winner will be picked at random on the 1st March 2019.
This rare opportunity to join the Swiftune team at the Goodwood Members Meeting includes:
Two tickets for entry on both days and for the set up day on the Friday
Full race team access including onto the pit wall for the best viewing position for the race
Two Grandstand tickets for the weekend
Accommodation in a motorhome for the weekend in the competitors campsite
Friday 'get to know the team' dinner in our own hospitality
Breakfast for both days
Attend the legendary annual Members Meeting party
Be fully immersed with the Swiftune team with an insight into how the cars are run
Our unique Swiftune Golden Tickets will be available with every purchase of an ATB Diff or any Camshaft or Camshaft Kit up until the 1st March and will then automatically be added to the draw (those that wish to opt out can do by contacting us when they purchase), winners will be announced soon after that.
This amazing competition will be back dated to the 1st November due to a delay in the all Mini race being announced. Anyone who has purchased any of the products since this date will be contacted.
T&C's apply: https://mailchi.mp/6d72a96b474b/termsandconditions
Get in touch
If you would like to get in touch, call us on +44 (0) 1233 850 843, email sales@swiftune.co.uk or simply complete the form below.