In Historic Touring Car racing, Mini's have gone from strength to strength thanks to the crowd-pleasing 'David and Goliath' acts performed at every round against the mighty Cortinas and Mustangs.
The increasingly popular Mini Cooper S can be seen competing now at most major European classic races at some of the most iconic tracks including Spa, Silverstone, Nurburgring and Goodwood and in popular race series' and events such as Masters, U2TC, HSCC and The Goodwood Revival. Power is king for an FIA Mini yet the need to use twin SU carburettors and points ignition doesn't make life easy. Hence Swiftune focuses its detailed development work on the cylinder head and camshaft.
At the heart of this development programme is our FIA approved Swiftune new cylinder head casting with CNC porting programmes. Just as important is Swiftune's partnership with Kent Cams for race-proven camshaft design because matching the cam and head characteristics is critical to achieve those last few bhp.
Add Swiftune's 50 years' experience of building competition A Series engines and you won't be surprised that the 1293cc engine is now producing over 125bhp at 8000rpm. The essential race reliability comes from the use of high grade components and years of experience applied to the all-important hand assembly process.
Swiftune's race winning engines have been proven at many historic race meetings including the iconic Goodwood Revival which has seen a Swiftune Mini win the class every time since 2009 and most recently saw the top 4 Mini's in the St Mary's Race in 2015 all Swiftune.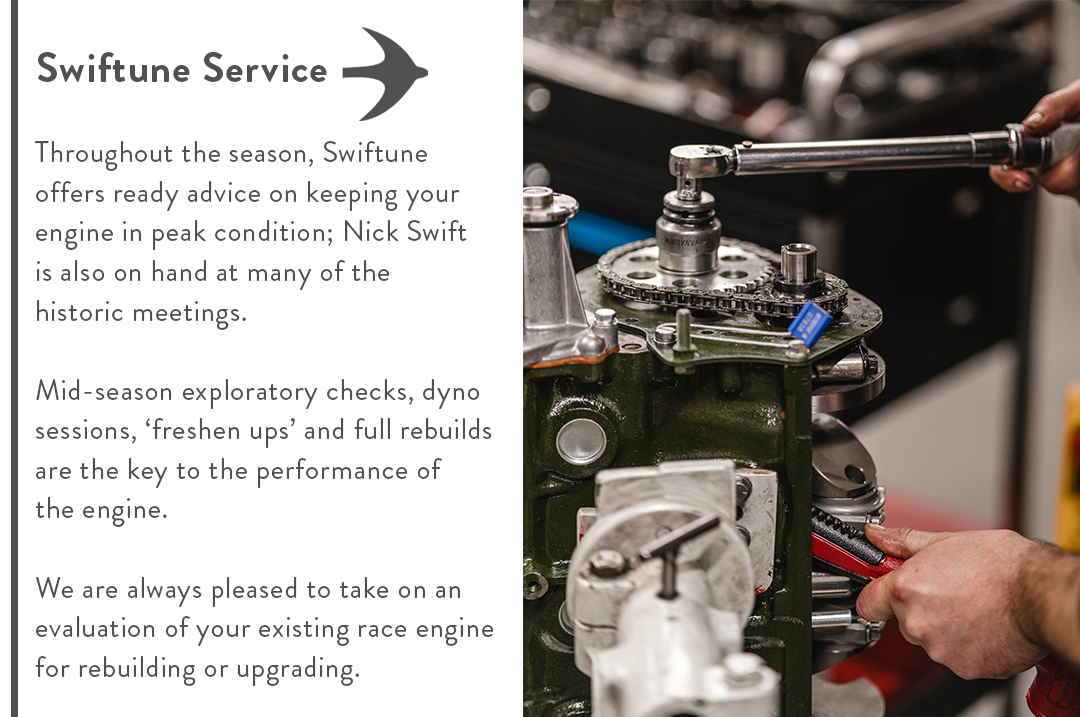 Get in touch
If you would like to get in touch, call us on +44 (0)1233 850843, email sales@swiftune.com or simply complete the form below.