Swiftune 50 Allcomers Race for Dementia UK at Brands Hatch Mini Festival 2015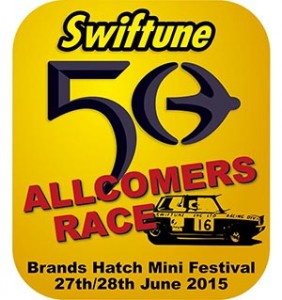 In celebration of our 50 years, we are hosting the Swiftune 50 Allcomers race at this years Brands Hatch Mini Festival. The race is open to ALL MINI'S. (if you eligible for any other race at the event you must enter such race before you are accepted into the Allcomers).
All of the profits from the race will go to Dementia UK, a charity that raises money for Admiral Nurses who provide crucial support for people living with Dementia and their families.
Please email georgie@swiftune.com if you wish to enter the race or have any questions.